January 6th, 2015
by Chris St Cartmail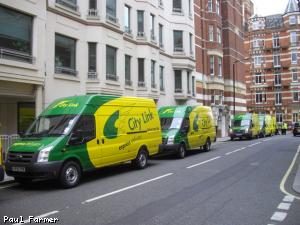 It didn't take long for the wheels to kick into motion following City Link's slide into administration two weeks ago as today (6 January) the news broke that a buyer has been found for the company.
The parcel delivery business finally ran out of road on Christmas Eve, with union bosses condemning the failure and subsequent 2,000-plus redundancies as an "absolute disgrace". But no sooner had the dust cleared from its unceremonious collapse than a buyer stepped forward in the form of rival logistics firm DX Group.
DX announced on Tuesday morning that it had bought more than £1 million worth of City Link's assets including parcel-scanning equipment, cages used to transport parcels within warehouses and "certain intellectual property".
The value of the assets is well known to the head of DX, Petar Cvetkovic, as he was once City Link's managing director before leaving to set up the rival business several years ago.
It had been five years since City Link had posted a profit so, while the timing of its demise was unfortunate, leaving many without presents under the Christmas tree, it was not altogether surprising.
Nevertheless, the nature of this deal and the assets that were bought demonstrates that, even when a business has failed, it will still possess things that are of clear value to rival companies. Moreover, these assets are often available at a knockdown price.
That is why businesses in administration are in such demand among business buyers – because they can be dissected; the prime cuts can be taken away from the deteriorating carcass. In this case the factory equipment can have a clear and immediate benefit for DX, enabling the company to expand its operations or save money on machinery it would have had to buy later on.
The undisclosed intellectual property also points to another attractive selling point of distressed businesses. Whether it is bespoke software for a specific sector or a patent on a particular product, IP can add value to a business looking to grow or become more efficient.
Although City Link's closure was one of the more widely reported administrations of the past 12 months – again because of its ill timing and painful consequences on people's festive celebrations – the story illustrates the value of monitoring businesses in distress. Many similar collapses will not receive so many column inches, meaning business buyers must look a little harder to remain abreast of such developments.
Waiting for stories to report on the fate of companies often leaves it too late – a better, more proactive approach is to seek out listings of businesses that have failed or are failing. This will not only give potential business buyers a head start over many competitors, ensuring they spot businesses that have fallen into administration first, but it will also allow them to monitor signs of distress, including things like winding-up petitions, which act as the proverbial drops of blood for the sharks in the M&A pool.
If you are interested in identifying potential turnaround opportunities before the competition, then take a look at our latest businesses in administration list which we update daily for our subscribers.
_____________________________________________________________
Related information:
More information on City Link in administration