150-year-old menswear firm falls into administration
Tue, 12 Sep 2017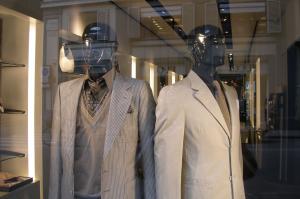 A menswear firm that has been on British high streets for more than 150 years closed its doors for the last time this week, after announcing that it would go into administration.
Greenwoods Menswear and Suit Hire, which is based in Bradford but has 63 branches across the UK, appointed Deloitte as administrators on 6 September.
At the time of their appointment, Greenwoods employed some 318 people across their operations, which include flagship stores in the Octagon shopping centre in Burton. No redundancies have yet been confirmed.
Though many stores are still open, notices have been seen in branches announcing the administration move.
The menswear store, which started life in 1860 as a hatter's shop, sells a range of suits, shirts, ties and shoes, but might be best known as the second largest formal garment hirer in the UK.
Recent accounts suggest Greenwoods has an annual turnover of around £20 million.
Deloitte's Adrian Berry, appointed as administrator alongside Clare Boardman from the same firm, said that Greenwoods was currently "assessing the options available", which include a potential sale of the business, with trading continuing in the meantime, and confirmed that there were no redundancies to announce "at this stage".
He added: "This is a challenging time for the UK retail sector, which has affected the company."
The company was previously subject to a takeover bid from a Chinese retailer in 2008. A mooted deal to buy a 50 per cent stake in Greenwoods fell down, however, due to the effect of the worldwide economic downturn later that year.
The firm then entered administration in 2009 but a subsidiary of Harvest Fancy Hong Kong bought 87 of Greenwoods' 92 retail locations from administrators.
Subscribe to
Business Sale Report
Businesses in administration
Subscribe today to read and search all our news, premium articles, business sale listings and buy/sell resources.
Do you want to gain access to the latest businesses for sale as well as all UK administrations, liquidations and all winding-up petitions?
Business Sale Report is your complete solution to finding great aquisition opportunities.
10 Biggest Buyer Mistakes
Fill in your details below to get our FREE guide