£50m sale on the cards for swimwear brand to the stars
Thu, 31 Aug 2017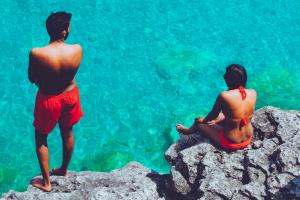 An upmarket British swimwear brand worn by holidaying celebrities is dipping its toes into the possibility of a £50 million sale.
Orlebar Brown, a firm that sells tailored swimwear at a premium price, gained public recognition ever since James Bond, played by Daniel Craig, wore a pair of the company's blue shorts in Skyfall.
Since then, the brand has attracted a beach-full of celebrity fans, including rapper Jay-Z, former Prime Minister David Cameron and actors Damien Lewis, Michael Fassbender and Hugh Jackman.
The high-end brand has reportedly hired Cavendish Corporate Finance to advise on a range of future funding options, including a mooted £50 million sale to private equity houses.
Orlebar Brown was founded 10 years ago by former photographer Adam Brown, who said he wanted to create tailored shorts to swim in after being unimpressed by a lack of options for image-conscious men.
Brown is said to have been inspired after noticing on holiday how women's swimwear allowed for many more stylish options than men's.
The firm's signature product retails from £95 to £395, but has recently expanded its range to include ready-to-wear, footwear and accessories. Its turnover is projected to hit £23 million this year, with about half of its sales originating outside the UK.
Though Orlebar Brown has core retail stores in Mayfair, Notting Hill, the City, Wimbledon, Chelsea and Canary Wharf - as well as a pop-up outlet at Bicester Village - it also has locations in a number of global markets, including the US, France, Turkey, Australia and Kuwait.
The firm also sells product through wholesale partners and via its own website.
Find a
business for sale
Subscribe to
Business Sale Report
Subscribe today to read and search all our news, premium articles, business sale listings and buy/sell resources.
Do you want to gain access to the latest businesses for sale as well as all UK administrations, liquidations and all winding-up petitions?
Business Sale Report is your complete solution to finding great aquisition opportunities.
10 Biggest Buyer Mistakes
Fill in your details below to get our FREE guide