Aston Martin calls in bank to advise on sale
Thu, 21 Dec 2017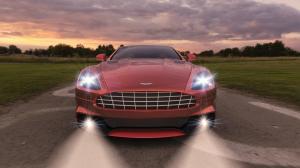 The owners of high-end car manufacturer Aston Martin have called in outside help to advise them over a potential sale - either to private owners or on the stock market.
According to reports around the financial media, the car-maker's private Kuwaiti investors and Investindustrial, an Italian private equity group, who together make up 90 per cent of Aston Martin's ownership, have called in experts from Lazard to explore potential sale options.
Though investment bank Lazard has a history of advising clients on initial public offerings (IPOs) on the stock market, other options being explored by Aston Martin include a trade sale or listing separate business units for purchase.
Any listing on the stock market is expected to take place in the third or fourth quarter of 2018, according to Reuters, though any intentions to do so at present are only at the stage of a "preliminary plan".
Listing Aston Martin would follow in the footsteps of fellow luxury car maker Ferrari's public listing in 2015.
Investindustrial acquired a 37.5 per cent stake in Aston Martin back in 2013 with a £150 million buy-in, and is thought to be the main driving force behind plans to sell up.
The option of a trade sale could prove more complicated, however, with the carmaker recently signing a technical partnership deal with Daimler which has seen the German conglomerate take a 5 per cent share in the company. Many parts in new Aston Martin products are sourced from Mercedes-derived electronics, too, which could prompt the German manufacturer putting a stop to any sale to a rival.
When
Reuters
enquired about the potential sale, an Aston Martin spokesperson replied: "Any IPO for Aston Martin would be at the sole discretion of our shareholders. The management team is focused on delivering our annual and medium-term business commitments under our Second Century plan."
Subscribe today to read and search all our news, premium articles, business sale listings and buy/sell resources.
Do you want to gain access to the latest businesses for sale as well as all UK administrations, liquidations and all winding-up petitions?
Business Sale Report is your complete solution to finding great aquisition opportunities.
10 Biggest Buyer Mistakes
Fill in your details below to get our FREE guide