Bath vending machine firm bought by a snack giant
Mon, 03 Jul 2017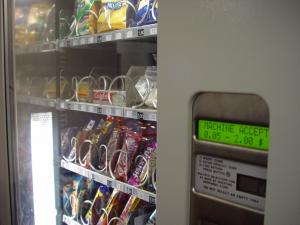 A Bath-based vending machine company with an annual turnover of £11m has been bought as part of a multimillion pound deal by a renowned crisp and snack maker.
West Country Vending Service has been purchased by Montagu Group, an affiliate company of Northern Ireland-based Tayto Group Ltd (TGL).
The family-owned West Country Vending manages and outsources vending machines, as well as selling them to a range of customers across sectors including business, industry and leisure.
The deal provides TGL, which owns the Golden Wonder, Mr Porky, REAL Crisps, Jonathan Crisp and Tayto brands, with access to 5,300 operational vending machines across the South West of England and South Wales.
Tayto Group's portfolio includes the most popular crisp brand in Northern Ireland and a client list that spreads across 43 countries. Overall, they produce in the region of 25 million bags of snacks and crisps each week.
Paul Allen, chief executive of the Montagu Group, said: "West Country is a long-established, route-based business with robust strongholds in the areas in which it operates. This acquisition is the next progressive step in our strategic development programme and increases our share of the GB vending-solutions sector significantly, bringing an extra 5,300 vending machines online.
"West Country is a disciplined and highly customer-focused business with a family-oriented ethos similar to the Tayto Group, which, along with its fixed revenue streams, made it an attractive proposition."
Tayto Group's diversification into the vending solutions sector has significantly increased the company's turnover. Over the last 12 years their revenues have risen from £19m to more than £215m.
Find food-related businesses for sale
here
Subscribe to Business Sale Report
here
Subscribe today to read and search all our news, premium articles, business sale listings and buy/sell resources.
Do you want to gain access to the latest businesses for sale as well as all UK administrations, liquidations and all winding-up petitions?
Business Sale Report is your complete solution to finding great aquisition opportunities.
10 Biggest Buyer Mistakes
Fill in your details below to get our FREE guide