Brand behind Britain's favourite sweets for sale
Thu, 15 Feb 2018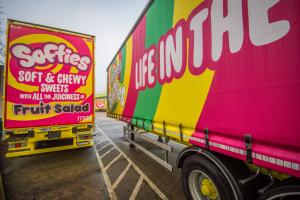 Some of the UK's most beloved confectionery brands - including Barratt, Dip Dab and Sherbert Fountains - are being put up for sale by their private equity owner with a £110 million price tag.

Tangerine Confectionery, the parent company for several classic sweet products such as Fruit Salad and Black Jack, is to be auctioned later this year by Blackstone, the multinational private equity firm that owns it.

The sale will be advised by Houlihan Lokey, an investment bank. Industry insiders expect the business to fetch somewhere between £100 million and £120 million.

Though it typically aims for much larger acquisitions, Blackstone took control of the UK confectionery company back in 2011. At the time, Tangerine also owned the Butterkist popcorn brand, though this was sold last year to the German parent company KP Snacks.

Founded in 2006 through a merger of traditional confectionery companies Taveners, Daintree and Parrs, Tangerine grew through the late 2000s with a series of acquisitions.

In August 2006 it took control of Blackpool-based Burton Foods' confectionery arm before purchasing Monkhill Confectionery from Cadbury in 2008 for £58 million. The deal included several product lines, including Barratts and Trebor Basset Mints, and factories in Cleckheaton, Pontefract and York.

Today, Tangerine has five factories in Blackpool, Liverpool and the previous locations, as well as its headquarters at Pontefract in West Yorkshire.

Recently times have been hard for the sweet maker, however, with the brand enjoying varied successes under Blackstone's ownership.

Despite a resurgent demand for 'retro' brands among the UK buying public, broader market trends have offset Tangerine's growth, especially as many consumers switch to sugar-free and other healthy snacking options.

Accounts filed at Companies House reveal that Tangerine's sales declined from £151.9 million 2015 to hit £139.3 million the next year.
Subscribe today to read and search all our news, premium articles, business sale listings and buy/sell resources.
---
Latest Businesses for Sale
---
Asking Price:
Turnover: £640,000
Location:
Digital printing specialists, commercial and retail stationers, lithographic printing and various ancilliary services. Freehold retail shop and long leased factory unit. Sale price includes all equipment and properties. NP £80k...
---
Asking Price: £1,900,000
Turnover:
Location: UK Wide
This leading highly profitable, UK based manufacturer of exploration, drilling and sampling equipment, supplies to the world minerals/earth sampling markets, the highest quality of earth drilling, boring, core sampling and in-situ ground testing equipment. The company has an enviable reputation for ..
---
Asking Price:
Turnover: £500,000
Location: South East
Three Victorian houses joined together to form a luxury 8,500 sq. ft. facility. Includes reception, two lounges, four dining rooms, 16 en-suite bedrooms, music room, two kitchens, conservatory, bar, sauna, hot tub and more...
---
View More Businesses for Sale >>
Do you want to gain access to the latest businesses for sale as well as all UK administrations, liquidations and all winding-up petitions?
Business Sale Report is your complete solution to finding great aquisition opportunities.
10 Biggest Buyer Mistakes
Fill in your details below to get our FREE guide