Brighton Pier owners consider pub sale
Fri, 10 Nov 2017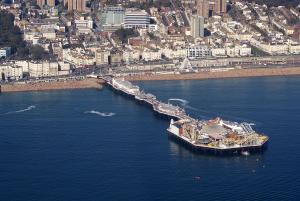 The owners of Brighton Palace Pier are considering a sale of the pub and bar arm of its business empire.
Risk Capital Partners, the group behind the Laine Pub Company which has nearly 50 pubs across London and Brighton, has reportedly appointed advisors to assess their future funding options.
Risk Capital Partners is an investment company which pumps money into businesses with the intention of making a return.
Gavin George, chief executive of Laine Pub Company, said: "We have appointed BDO and they are working with us and our current investors to look at our strategic objectives.
"We have been encouraged by the approaches we have had in recent times, which give a good indication of the strength of the business and its potential to grow further."
The Laine Pub Company currently has nearly 50 pubs in London and Brighton including the North Laine Pub in Gloucester Place, Brighton. In April the company it announced it was buying six more London pubs for an estimated £4 million.
Selling this arm of the company would mark a shift away from the pub and bar sector which is notorious for being increasingly difficult to make money from.
Find a
business for sale
Subscribe to
Business Sale Report
Subscribe today to read and search all our news, premium articles, business sale listings and buy/sell resources.
Do you want to gain access to the latest businesses for sale as well as all UK administrations, liquidations and all winding-up petitions?
Business Sale Report is your complete solution to finding great aquisition opportunities.
10 Biggest Buyer Mistakes
Fill in your details below to get our FREE guide