British robotics firm completes management buyout
Tue, 15 Aug 2017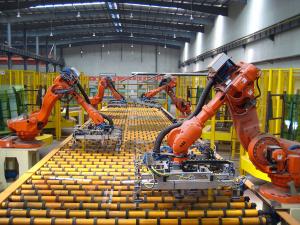 A robotics company which began life designing mechanisms for sewing machine manufacturer Singer in the Victorian era has completed a management buyout as it seeks out new markets.
Sewtec, a Yorkshire-based company that designs and engineers automated manufacturing and packaging systems for the confectionery, food, pharmaceutical, personal care and tobacco industries, saw its revenues increase by more than a third in 2016 to reach £22 million and pre-tax profits hit £11.3 million.
The firm, which employs a team of 70 engineers, was originally established as part of the larger Singer company in 1897. It broke away almost 100 years later - in 1982 - to initially concentrate on the automotive industry.
Today the company designs various production and packaging solutions for customers around the world, with many resources spent on developing new designs to capitalise on the increased trend of automation in industry.
The management buyout was backed by private equity firm Endless and comes at the end of 20 years of expansion driven by Sewtec's vendor, Bernard Meehan. He famously left school at 16 to become an apprentice engineer, joining the firm as a designer at 23 before becoming general manager two years later and taking full ownership of Sewtec in 2005.
Meehan will remain as an adviser to Sewtec while a management team of Gary Day, Karl Conqueror and Paul Johnson have spearheaded the buyout.
Speaking about Sewtec, Meehan said: "The fact that big multinationals from all over the world are coming to Ravensthorpe in Dewsbury to solve their problems is something I am very proud of."
Exports currently make up 85 per cent of Sewtec's sales.
Endless, a fund that was launched in Leeds in 2005, has made ten further acquisitions this year.
Subscribe to Business Sale Report
here
.
Subscribe today to read and search all our news, premium articles, business sale listings and buy/sell resources.
Do you want to gain access to the latest businesses for sale as well as all UK administrations, liquidations and all winding-up petitions?
Business Sale Report is your complete solution to finding great aquisition opportunities.
10 Biggest Buyer Mistakes
Fill in your details below to get our FREE guide