Buyer sought for single-seat aircraft maker E-Go Aeroplanes
Fri, 07 Apr 2017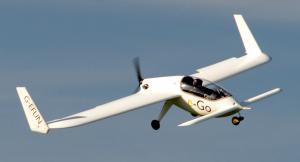 Joint administrators have been drafted in to E-Go Aeroplanes to help sell the distressed business.
Alastair Massey and Tony Wright, partners at FRP Advisory, were taken on as joint administrators to the aviation engineering business on 28th March 2017. The business is now being marketed for sale as a going concern.
The business enjoyed a fast take off from its beginnings in 2011, after the company raised the cash needed to create a prototype model single-seat aircraft. The maiden flight of the E-Go prototype was a success, and the company was able to raise more funding in 2014.
Despite these successes, the rapid rise of the business and the high production costs for its single seater model placed excessive pressure on its cash flow.
News surfaced of E-Go's search for a buyer in September 2016, in order to fund its plans to develop three- and five-seater versions of its planes. It was seeking a minimum of £1.5 million, after being handed just £150k out of a £700k fundraising effort. It was mentioned at the time that the board and shareholders were determined to stay well clear of liquidation.
Joint administrator Mr Massey commented: "E-Go Aeroplanes is a leading British engineering innovator with proven technology and manufacturing that meets the highest standards of the global aviation industry.
"All of E-Go Aeroplanes' technology, moulds and avionics allow for aircraft to be built to the standards acceptable to the American Society for Testing Materials. We are marketing the business and assets for sale and encourage any interested parties to make early contact."
Contact the administrators of E-Go Aeroplanes
Subscribe to the Business Sale Report
here
Subscribe today to read and search all our news, premium articles, business sale listings and buy/sell resources.
---
Latest Businesses for Sale
---
Asking Price:
Turnover: £640,000
Location:
Digital printing specialists, commercial and retail stationers, lithographic printing and various ancilliary services. Freehold retail shop and long leased factory unit. Sale price includes all equipment and properties. NP £80k...
---
Asking Price: £1,900,000
Turnover:
Location: UK Wide
This leading highly profitable, UK based manufacturer of exploration, drilling and sampling equipment, supplies to the world minerals/earth sampling markets, the highest quality of earth drilling, boring, core sampling and in-situ ground testing equipment. The company has an enviable reputation for ..
---
Asking Price:
Turnover: £500,000
Location: South East
Three Victorian houses joined together to form a luxury 8,500 sq. ft. facility. Includes reception, two lounges, four dining rooms, 16 en-suite bedrooms, music room, two kitchens, conservatory, bar, sauna, hot tub and more...
---
View More Businesses for Sale >>
Do you want to gain access to the latest businesses for sale as well as all UK administrations, liquidations and all winding-up petitions?
Business Sale Report is your complete solution to finding great aquisition opportunities.
10 Biggest Buyer Mistakes
Fill in your details below to get our FREE guide