Disgraced Bell Pottinger 'could go into administration next week'
Fri, 08 Sep 2017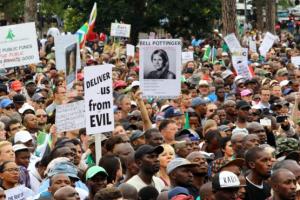 Embattled British PR firm has shown signs that it may go into administration as early as next week, according to reports.
The firm, which has been stripped of its membership of the industry's trade association after serious questions over its conduct in South Africa, is due to separate its Asian unit and begin trading under the name Klareco Communications.
The Public Relations and Communications Association (PRCA) last week said that Bell Pottinger had "brought the PR and communications industry into disrepute" with a campaign in South Africa that was accused of stirring up racial tensions.
In the past, the company enjoyed business from some of the world's richest individuals, governments and multinational organisations; but the serious and troubling accusations over Bell Pottinger's relationship with Oakbay, a company controlled by the wealthy Gupta family of Indian-born businessmen who are said to exert undue influence over South African president Jacob Zuma, led to a mass migration of clients.
Earlier this week, co-founder Lord Timothy Bell, who left the firm last year, told BBC's Newsnight programme that he thought the agency would be unlikely to survive.
"It's probably nearing the end," he said.
Subscribe to
Business Sale Report
Subscribe today to read and search all our news, premium articles, business sale listings and buy/sell resources.
---
Latest Businesses for Sale
---
Asking Price:
Turnover: £640,000
Location:
Digital printing specialists, commercial and retail stationers, lithographic printing and various ancilliary services. Freehold retail shop and long leased factory unit. Sale price includes all equipment and properties. NP £80k...
---
Asking Price: £1,900,000
Turnover:
Location: UK Wide
This leading highly profitable, UK based manufacturer of exploration, drilling and sampling equipment, supplies to the world minerals/earth sampling markets, the highest quality of earth drilling, boring, core sampling and in-situ ground testing equipment. The company has an enviable reputation for ..
---
Asking Price:
Turnover: £500,000
Location: South East
Three Victorian houses joined together to form a luxury 8,500 sq. ft. facility. Includes reception, two lounges, four dining rooms, 16 en-suite bedrooms, music room, two kitchens, conservatory, bar, sauna, hot tub and more...
---
View More Businesses for Sale >>
Do you want to gain access to the latest businesses for sale as well as all UK administrations, liquidations and all winding-up petitions?
Business Sale Report is your complete solution to finding great aquisition opportunities.
10 Biggest Buyer Mistakes
Fill in your details below to get our FREE guide