Equine veterinary group bought out by CVS
Wed, 13 Sep 2017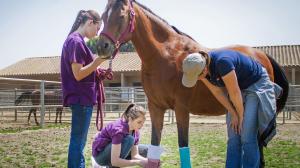 A Gloucestershire veterinary practice has been bought out by CVS, the largest UK player in the industry.
B&W Equine Veterinary Group, which was established in 2009 when equine practices Bushy Equine Vets and The Willesley Equine Clinic merged, is set to become part of the CVS family but will remain a separate business division.
The company is described as the largest horse-specialised veterinary practice group in the South West of the UK, with practices in Cardiff, Gloucestershire and Bristol, employing more than 100 staff.
B&W also has a cutting-edge referral hospital in Breadstone, Gloucestershire, which caters for a range of equine illnesses and is "one of the Europe's most advanced diagnostic and surgical centres", according to the group's website.
CVS's chief executive, Simon Innes, has described the move as "strategically important" for the firm, giving it a foothold in the UK equine care market. He also cited the quick growth of the division as a key motivator, with CVS keen to develop and grow B&W to reach its potential.
Innes added: "The team at B&W bring enormous expertise to the CVS Equine group, and we are thrilled to have them join us, particularly as we are growing so rapidly in our equine division."
As the largest veterinary group in the UK, CVS maintains more than 420 practices, staffed by 1,000 vets and 1,500 nurses, across the UK. It focuses on four main areas: veterinary practices, diagnostic laboratories, pet crematoria and a burgeoning e-commerce division.
B&W's shareholders were advised by Momentum Corporate Finance around the deal, with many anticipating good returns following CVS's successful purchase of Highcroft Veterinary Group earlier this year.
Subscribe to Business Sale Report
here
.
Subscribe today to read and search all our news, premium articles, business sale listings and buy/sell resources.
Do you want to gain access to the latest businesses for sale as well as all UK administrations, liquidations and all winding-up petitions?
Business Sale Report is your complete solution to finding great aquisition opportunities.
10 Biggest Buyer Mistakes
Fill in your details below to get our FREE guide