Ferry firm Red Funnel up for sale for £250m
Tue, 14 Mar 2017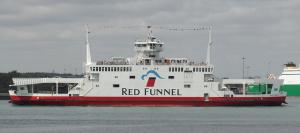 Isle of Wight ferry operator Red Funnel has been put up for sale for £250 million by owner Infracapital, an infrastructure investment arm of the Prudential.
Infracapital, which bought Red Funnel about a decade ago for £200 million, has appointed Macquarie, the Australian investment bank, to handle the sale.
Red Funnel, established in 1861, operates 30,000 trips a year from Southampton to Cowes on the Isle of Wight, carrying 3.4 million passengers and 860,000 vehicles. The firm employs around 460 people.
Red Funnel this week confirmed the news, first reported by the Sunday Times.
The firm's chief executive Kevin George said: "Infracapital has been a supportive owner of Red Funnel for nine years during which time there has been significant investment and improvements in the services we provide. It is normal for an infrastructure fund manager such as Infracapital to review its investments from time to time.
"We remain totally committed to offering safe and reliable services, value for money and great customer service now and into the future."
Red Funnel posted £17.6 million in profit in 2015, 23 per cent up on the previous year.
In 2015 Wightlink, Red Funnel's rival, was sold by Macquarie to Balfour Beatty's infrastructure arm.
Find
leisure and lifestyle businesses for sale
.
Subscribe today to read and search all our news, premium articles, business sale listings and buy/sell resources.
Look around the Business Sale Report
10 Biggest Buyer Mistakes
Fill in your details below to get our FREE guide
Next Steps...
Subscribe and get contact details straight away.
We send you login details to access information for all the businesses listed for sale.
Give us your acquisition criteria and our researchers will begin searching for specific opportunities that match your requirements.
View new opportunities you won't find anywhere else and use daily notifications to stay ahead of the competition.
If you have any questions, get in touch with us to find out how we can help.
Call us on +44 (0)20 8875 0200
Or email [email protected]