Harbourmaster hotel for sale
Wed, 04 Sep 2013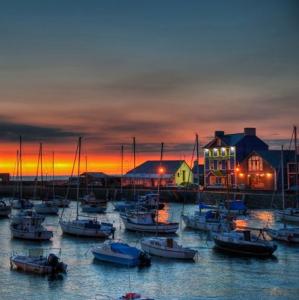 A £2.7 million for sale sign has been hoisted up for the Harbourmaster hotel in Aberaeron, Wales.
The award-winning hotel, restaurant and bar was set up 12 years ago by husband and wife team Glyn and Menna Heulyn. "It's 12 years since we created the Harbourmaster," Glyn confirmed to WalesOnline.
"What started as a dream has turned into a roaring success and we are so pleased on its positive effect on Aberaeron and the local community."
The business, with its 13 bedrooms, 50-cover restaurant and bar, brings in over £1.7 million in sales a year and has 26 staff. Greater success has come to the area since the Harbourmaster was founded, with the subsequent set up of new bars, restaurants and shops nearby.
Christie + Co has been brought in to sell the freehold Grade ll listed hotel, which has bagged several tourism and cuisine awards.
Jonathan Hill, director of Hotels for Christie + Co in Bristol, is confident of a successful sale: "It is a highly-desirable business and we expect to attract a high level of interest from prospective purchasers."
Prince Charles and Camilla stopped in at the Harbourmaster for a drink while on an official tour of the area, and it is also used as a location for the S4C drama Teulu. It has received a positive review in this year's Good Hotel Guide, and in several national newspapers.
After the sale the owners will focus on running the Harbourmaster's sister café bar restaurant, Baravin, which is in Aberystwyth.
_________________________________________________________________________
Related information:
The Bell Hotel in Yorkshire for sale
Hotels for sale
Subscribe today to read and search all our news, premium articles, business sale listings and buy/sell resources.
Do you want to gain access to the latest businesses for sale as well as all UK administrations, liquidations and all winding-up petitions?
Business Sale Report is your complete solution to finding great aquisition opportunities.
10 Biggest Buyer Mistakes
Fill in your details below to get our FREE guide