MBO at modular building specialist
Fri, 22 Sep 2017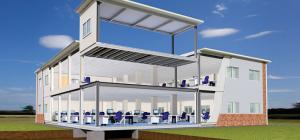 A Cardiff-headquartered modular building specialist has been acquired by one of its senior team as part of a management buyout (MBO).
Clarks Modular Buildings, founded in 1951, began by supplying "jackleg" cabins to the construction industry, but in the late '90s moved into the construction, hire and sales of modular buildings. Customers include several major utility companies and construction businesses.
Since the deal, the company has transferred ownership to brother and sister partnership Elissa Thomas and Ellis John. Thomas was involved in the operation of the business for several years while her brother has worked for a large PLC company in the construction industry.
Former managing director Ian Clark will retain a 20 per cent shareholding and remain on the board, working closely with the new owners to support the business in its growth plans going forward.
"We have great plans to continue, grow and develop the business going forward and I am confident that my knowledge and contacts in the construction sector will open new doors for the company," said Ellis John.
Accountancy firm Broomfield and Alexander advised the deal. Representative Seamus Gates said: "This is already a substantial business in the capital but also one with potential to grow and develop into the future."
Find a
business for sale
Subscribe to the
Business Sale Report
Subscribe today to read and search all our news, premium articles, business sale listings and buy/sell resources.
---
Latest Businesses for Sale
---
Asking Price:
Turnover: £640,000
Location:
Digital printing specialists, commercial and retail stationers, lithographic printing and various ancilliary services. Freehold retail shop and long leased factory unit. Sale price includes all equipment and properties. NP £80k...
---
Asking Price: £1,900,000
Turnover:
Location: UK Wide
This leading highly profitable, UK based manufacturer of exploration, drilling and sampling equipment, supplies to the world minerals/earth sampling markets, the highest quality of earth drilling, boring, core sampling and in-situ ground testing equipment. The company has an enviable reputation for ..
---
Asking Price:
Turnover: £500,000
Location: South East
Three Victorian houses joined together to form a luxury 8,500 sq. ft. facility. Includes reception, two lounges, four dining rooms, 16 en-suite bedrooms, music room, two kitchens, conservatory, bar, sauna, hot tub and more...
---
View More Businesses for Sale >>
Latest articles
Do you want to gain access to the latest businesses for sale as well as all UK administrations, liquidations and all winding-up petitions?
Business Sale Report is your complete solution to finding great aquisition opportunities.
10 Biggest Buyer Mistakes
Fill in your details below to get our FREE guide