New Scientist changes hands
Sat, 15 Apr 2017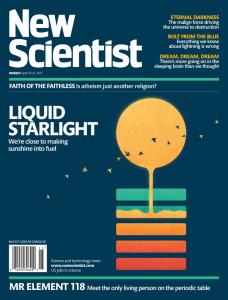 Reed Business Information (RBI) has sold leading science magazine New Scientist to Kingston Acquisitions, a firm set up by the former management team of the Times Educational Supplement.
RBI's owner, the FTSE 100 group Relx, divested the magazine to focus on its data and information services activity.
Terms of the deal were not disclosed. In a short statement RBI said: "This decision reflects RBI's continuing strategic priority of focusing on its data and analytics business."
New Scientist covers ideas and developments in the worlds of science and technology.
The magazine has a global circulation of nearly 130,000 and employs around 40 editorial staff. Its website, newscientist.com, gets more than three million unique users a month.
According to the
Financial Times
Relx has spent the last decade shipping out the majority of its business and trade magazines as its seeks to reduce its reliance on print publications.
Over the same period its risk and analytics division has grown, delivering a nine per cent increase in revenues last year.
Businessman Sir Bernard Gray, who heads up Kingston Acquisitions, was quoted as saying: "In a world where science and technology is playing a more and more central role in people's lives, providing an understanding of the accelerating pace of change in science is a huge growth opportunity for New Scientist."
Find
media companies for sale
.
Subscribe to the Business Sale Report
here
Subscribe today to read and search all our news, premium articles, business sale listings and buy/sell resources.
Do you want to gain access to the latest businesses for sale as well as all UK administrations, liquidations and all winding-up petitions?
Business Sale Report is your complete solution to finding great aquisition opportunities.
10 Biggest Buyer Mistakes
Fill in your details below to get our FREE guide