Northern upmarket grocery chain Booths up for sale
Sun, 26 Nov 2017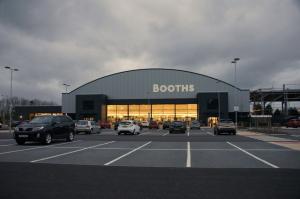 The top-end northern grocer Booths has reportedly been put up for sale for between £130m and £150m, according to a report released this weekend.

The Preston-based chain has 28 outlets across Greater Manchester, Cheshire, Yorkshire, Cumbria and Lancashire employing over 2800 staff who collectively own about 4 per cent of the business. The Booth family own the rest. Henry Booth founded the business back in 1847 when he opened the China House in Blackpool. Today the company is chaired by his descendant Edwin Booth, who is also the Chief Executive.

According to the Sunday Times, the family has brought in advisers from Rothschild, the investment bank, to consider potential offers. There have have been offers for the grocer in the past, including from Waitrose and Safeway, but now it's open season the other major supermarket giants are all expected to be readying for a close financial examination.

The sale is thought to have been triggered by recent turbulence in trading, with the company having posted a loss of £6.5 million last year, following a £1.1m profit a year earlier. Nevertheless the brand is very strong with a loyal customer base and the company has demonstrated resilience by riding previous downturns well.
Subscribe today to read and search all our news, premium articles, business sale listings and buy/sell resources.
---
Latest Retail Businesses for Sale
---
Asking Price:
Turnover: £480,000
Location: South East
This business was founded in 1972 by the father of the vendor and has grown since to become a significant enterprise with a reputation for the quality and variety of its products, brands, service and reliability. The business enjoys a prime main road location in a busy Essex town considered to be o..
---
Asking Price:
Turnover: £750,000
Location: North West
Busy trading location. Extensive showroom areas, well-presented throughout. Excellent reputation. GP 35%. Business only plus SAV...
---
Asking Price:
Turnover: £1,000,000
Location:
Well-established multi-faceted business. Main road trading position. Excellent customer base. Includes 17th century two bedroom cottage. Freehold. Business only option excluding cottage £999k+. GP approx. 23%...
---
View More Retail Businesses for Sale >>
Do you want to gain access to the latest businesses for sale as well as all UK administrations, liquidations and all winding-up petitions?
Business Sale Report is your complete solution to finding great aquisition opportunities.
10 Biggest Buyer Mistakes
Fill in your details below to get our FREE guide