PR firm Bell Pottinger puts itself up for sale
Thu, 07 Sep 2017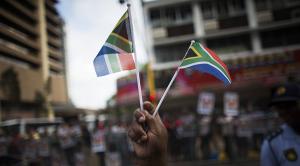 Bell Pottinger, the public relations firm which was expelled from the UK's trade body for its work on a controversial campaign in South Africa, has confirmed that it will put itself up for sale.
A spokesperson for the company, whose clients include banking giant HSBC, said that accountants BDO had been appointed to advise "on the best options for the business moving forward".
The PR firm has reportedly lost many of its clients on the back of a campaign it put together for Oakbay Capital, a South African holding company owned by the Gupta family, after the campaign was deemed "potentially racially divisive" by an independent report.
The Bell Pottinger campaign was accused of stoking anger over emphasising the power of white-owned businesses in South Africa, while the report also accused the firm of promoting an "economic apartheid".
The report, carried out by law firm Herbert Smith Freehills, also found that Bell Pottinger lacked adequate policies for handling the fallout of the campaign and said the firm missed opportunities to crack down on the disaster.
The industry trade body, the Public Relations and Communications Association (PRCA), has expelled the firm, while clients such as luxury goods firm Richemont have severed all ties with Bell Pottinger.
BDO will now try to find a buyer for the company, which at present employs 250 people in offices in London, Asia and the Middle East.
The firm's chief executive, James Henderson, retired last week. The company has said it will move quickly to find a replacement.
This is not the first time Bell Pottinger has courted controversy: previous clients include athlete Oscar Pistorius after he was charged with murder, former president FW de Klerk, a vocal opponent of Nelson Mandela, and arms manufacturer BAE Systems.
Subscribe to Business Sale Report
here
Search for advertising & media businesses for sale
here
Subscribe today to read and search all our news, premium articles, business sale listings and buy/sell resources.
---
Latest Businesses for Sale
---
Asking Price:
Turnover: £640,000
Location:
Digital printing specialists, commercial and retail stationers, lithographic printing and various ancilliary services. Freehold retail shop and long leased factory unit. Sale price includes all equipment and properties. NP £80k...
---
Asking Price: £1,900,000
Turnover:
Location: UK Wide
This leading highly profitable, UK based manufacturer of exploration, drilling and sampling equipment, supplies to the world minerals/earth sampling markets, the highest quality of earth drilling, boring, core sampling and in-situ ground testing equipment. The company has an enviable reputation for ..
---
Asking Price:
Turnover: £500,000
Location: South East
Three Victorian houses joined together to form a luxury 8,500 sq. ft. facility. Includes reception, two lounges, four dining rooms, 16 en-suite bedrooms, music room, two kitchens, conservatory, bar, sauna, hot tub and more...
---
View More Businesses for Sale >>
Do you want to gain access to the latest businesses for sale as well as all UK administrations, liquidations and all winding-up petitions?
Business Sale Report is your complete solution to finding great aquisition opportunities.
10 Biggest Buyer Mistakes
Fill in your details below to get our FREE guide