Scottish haulage company in administration
Thu, 02 Nov 2017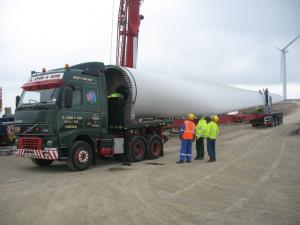 A Scottish company that specialises in delivering parts for wind turbines has gone into administration following growing competition and rising costs, costing 21 employees their jobs.
West of Scotland Heavy Haulage, based in Cumbernauld in North Lanarkshire, was founded in 1946 and previously maintained contracts in mining, civil engineering, construction and renewable energy transportation.
Despite having an annual turnover of around £11 million, an increasingly competitive business environment and the rising costs of running a haulage company meant that this week FRP Advisory were appointed as administrators.
Tom MacLennan, partner at FRP Advisory and joint administrator of the firm, said the company also had "unsustainable cash flow problems".
He added: "Unfortunately, the businesses could not overcome severe operational and financial problems, and administration was the only option."
"We will work closely with all agencies including the Redundancy Payments Office to ensure employees receive as much support as possible at this difficult time."
West of Scotland has ceased trading with immediate effect while the administrators take over, with 21 permanent members of staff being made redundant and only two retained to assist with the winding up process. Sub-contractors have also been hired to take care of the firm's three remaining contracts.
MacLennan added that West of Scotland was a "long-standing provider" of specialist heavy haulage vehicles and services across Scotland, often one of the few companies able to deliver certain equipment.
The impact of the administration will be such that Paul Wheelhouse, Minister for Business, Innovation and Energy, said he was "deeply concerned" by events.
He said: "The Scottish government is monitoring the situation and, in the event that any employees face redundancy, we stand ready to provide support through our multi-agency initiative for responding to redundancy situations, Partnership Action for Continuing Employment."
Search
businesses in administration
Subscribe to the
Business Sale Report
Subscribe today to read and search all our news, premium articles, business sale listings and buy/sell resources.
Do you want to gain access to the latest businesses for sale as well as all UK administrations, liquidations and all winding-up petitions?
Business Sale Report is your complete solution to finding great aquisition opportunities.
10 Biggest Buyer Mistakes
Fill in your details below to get our FREE guide