Spar's wholesaler owner to consider sale and break-up
Wed, 09 Aug 2017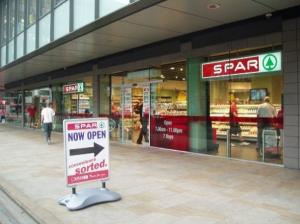 International retail chain Spar could be heading for a break-up as its owner considers selling its wholesale arm in a deal worth £100 million.
AF Blakemore, the group that supplies many of Spar's UK locations, is examining the possibility of selling its wholesale business after hiring financial advisers at KPMG to explore a deal.
The 100-year-old family business began in a single shop in Wolverhampton and is chaired by Peter Blakemore.
The Telegraph reports that Bestway, currently UK's fifth largest wholesaler, has expressed an interest in buying the business to boost its profile in a market that is changing rapidly.
While Bestway currently boasts annual sales worth £2.5 billion, other players are quickly entering the wholesale market: Tesco recently took over Booker, one of Bestway's rivals, in a £3.7 billion deal that was described by Bestway's managing director, Martin Race, as "painful" for the rest of the sector.
That move in turn has made waves in the wholesale sector, including urging Morrison's to sign a deal to supply another convenience chain, McColl's.
AF Blakemore itself made sales of £1.3 billion last year but only brought in £7.6 million pre-tax profits, indicative of the industry's small margins.
The firm operates 13 cash and carry depots across the UK, with a head office in Wolverhampton Science Park.
Spar itself owns 290 retail branches around the country, while AF Blakemore supplies more than 1,000 Spar convenience stores including franchised locations.
AF Blakemore splits its ownership of Spare with four other regional distributors located in England.
Subscribe to Business Sale Report
here
.
Subscribe today to read and search all our news, premium articles, business sale listings and buy/sell resources.
Do you want to gain access to the latest businesses for sale as well as all UK administrations, liquidations and all winding-up petitions?
Business Sale Report is your complete solution to finding great aquisition opportunities.
10 Biggest Buyer Mistakes
Fill in your details below to get our FREE guide