Walmart heirs favourites to buy £200m cycling brand Rapha
Tue, 08 Aug 2017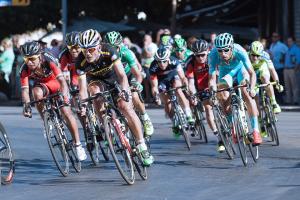 Upscale British cycling brand Rapha is set to be sold to a private equity firm run by two members of the Walmart dynasty in a deal expected to be worth £200 million.
Rapha, which was founded by branding consultant Simon Mottram in 2004, announced early this week that it had reached an agreement with RZC Investments, a firm run by Steuart and Tom Walton, grandchildren of Walmart founder Sam Walton.
Though Mottram will remain on Rapha's books as chief executive, he is believed to be willing to sell his personal £25 million stake in the business.
Walmart's bid is expected to beat other offers for the £200 million cycle gear maker, including one of the largest shareholders in Aston Martin, Investindustrial, and Invus, an investment group which used to own Weight Watchers.
Mottram described the impending RZC bid as "an exciting day for Rapha".
He added: "[The bid] means we can pursue our mission to elevate cycling as a global sport and recruit more participants by engaging them and enabling them to ride with us at all levels."
Rapha has expanded rapidly since its founding, selling through 20 websites and shipping cycling equipment to more than 100 countries, all the while operating 17 "clubhouse" retail sites in major cities around the world.
Recent accounts state that Rapha has more than 200,000 active customers and 450 employees, with annual revenues running to £63 million in 2016.
The company's products include everything from £20 "embrocation cream", designed to redirect blood back into your lower extremities by stimulating veins – to expensive bespoke holiday tours to the alps.
Search
retail businesses for sale
Subscribe to Business Sale Report
here
Subscribe today to read and search all our news, premium articles, business sale listings and buy/sell resources.
Do you want to gain access to the latest businesses for sale as well as all UK administrations, liquidations and all winding-up petitions?
Business Sale Report is your complete solution to finding great aquisition opportunities.
10 Biggest Buyer Mistakes
Fill in your details below to get our FREE guide