Burger chain Byron to sell up amid restructure
Wed, 10 Jan 2018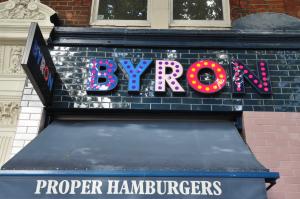 Popular high street burger selling chain Byron has announced that it is considering a sale of part of its business in order to rescue the group.

Bryon's owner, London-based private equity firm Hutton Collins, has aired plans to sell half of its current holding with Three Hills Capital Partners lined up as a potential new majority shareholder.

The deal relies upon a successful restructuring of the burger business after agreeing to the terms of a company voluntary agreement (CVA) on the back of several difficult years of trading.

Accountancy firm KPMG, which is overseeing the restructuring process, said that plans were currently to close up to 20 restaurants and reduce the rent paid at other sites for six months.

The accountancy firm said that no restaurants would close on "day one", while Byron would continue to pay employees and suppliers as normal in the interim.

Byron said in a statement today that the planned restructure would let it "refocus the business on a smaller, more profitable core estate" and that it would do "everything possible" to find displaced staff a new roll at other sites.

Simon Cope, Byron's CEO, said: "Byron's core restaurant business and brand remain strong but the market that we operate in has changed profoundly.

"With the support of our new owners, our creditors, landlords and other business partners, I'm confident Byron will be able to continue providing our consumers with the best burger experience."

The burger chain opened its first restaurant in Kensington in 2007 with a mission to bring "proper hamburgers" to the UK high street. Since then, however, rising costs in the casual dining industry have caused problems, as has competition from home delivery rivals and other brands.

Hutton Collins bought Byron in a deal worth £100 million in 2013 and has since doubled the restaurant chain's locations from 34 to almost 70.
Subscribe today to read and search all our news, premium articles, business sale listings and buy/sell resources.
---
Latest Food Businesses for Sale
---
Asking Price:
Turnover: £500,000
Location: London
A supplier of highly differentiated, healthier and consumer/ market relevant soft drinks established since 1998. The business to date has been funded by its current shareholders; however, they are prepared to write down their investment in return for a minority interest. There is an opportunity to a..
---
Asking Price:
Turnover: £500,000
Location: Yorkshire and the Humber
Highly successful independent specialist bakery for sale due to retirement of owners. Established for over 40 years, consistent profitability and significant growth potential for new owners. Management team and staff in place, premises, vehicles and fully equipped freehold bakery included in sale...
---
Asking Price:
Turnover: £450,000
Location: South West
The company has been established for in excess of eighteen years and trades from well presented premises on a small industrial site in a Wiltshire town close to both Bristol and Bath. It makes and supplies hand made sandwiches, baguettes and snack items to a broad range of garages, convenience store..
---
View More Food Businesses for Sale >>
Do you want to gain access to the latest businesses for sale as well as all UK administrations, liquidations and all winding-up petitions?
Business Sale Report is your complete solution to finding great aquisition opportunities.
10 Biggest Buyer Mistakes
Fill in your details below to get our FREE guide