May 23rd, 2014
by Chris St Cartmail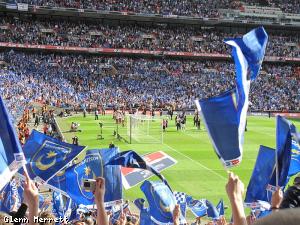 Football is always remarked as being a 'high pressure' sport, but this pressure extends well beyond the touchlines of the pitch.
Begbies Traynor's 'Red Flag Alert Football Distress' report has revealed that more than 11 per cent of English Football League clubs are facing "severe financial pressure". As the season draws to a close for all but a few teams who are set to do battle for promotion to greener grasses, the study has shown a general deterioration in the health of English clubs.
The report provides biannual snapshots of financial distress in English Football League clubs – that is any side that plays in the Championship, League One or League Two. The paper did not make for pretty reading; among the 72 clubs, one in nine was found to be suffering from financial distress, a 33 per cent increase from when the study was carried out in September 2013.
To make matters worse, as clubs struggle with their finances, the threat of Financial Fair Play rules now loom overhead. These new regulations are designed to prevent football clubs from spending beyond their means and running up substantial losses, something Premier League champions Manchester City have already fallen foul of, with several heavy penalties incurred as a result.
'You have to speculate to accumulate' is what Alan Sugar wannabes would say and there is an element of this thinking within football clubs. With huge jumps in prize money, sponsorship and media rights as you climb through the divisions, all clubs are readying themselves for that big push for promotion. As such, many will over spend on wages and transfer fees with the hope that they will be rewarded with a successful and lucrative campaign.
Relegation, meanwhile, results in a huge dip in income, something that some clubs do not or simply cannot account for. Many previously great clubs have slid down the slippery slope of having to frantically sell players as they drop down the divisions, with many entering administration as options are exhausted.
Aiming for the stars is fine, but the problem is that it makes for a heavy fall if you don't make it. And that is often the story of football clubs' financial failures.
As the curtain comes down on another season, many clubs will be left desperately trying to balance the books having missed their ambitious targets. Clichéd maybe, but football is a 'results business', and when you invest large sums only to fail in getting the desired results – as in the business world – the long-term future of the clubs is brought into question.