Wednesday, March 30th, 2016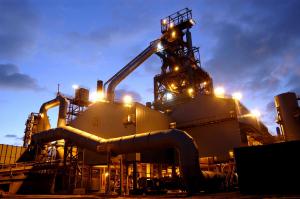 Tata Steel has put the UK's largest steelmaking business up for sale. The operation in Port Talbot, one of the few steelmakers left in the country, has been making heavy losses for some time.
A spokesman for the Mumbai-based company said that it was looking at "strategic alternatives" and wants to "explore all options for portfolio restructuring, including the potential divestment of Tata Steel UK, in whole or in parts".
Aberavon MP Stephen Kinnock, who has been in Mumbai with Community union officials to try and persuade Tata Steel to keep its UK operation, told the South Wales Evening Post: "We will not allow the closure of Port Talbot steelworks. One way or another, we will continue to make steel in Port Talbot, but it looks like Tata do not back the plan. We will work with Tata and the UK government to help find a buyer for the plant." The delegation was disappointed that it failed in its attempt to convince Tata Steel of the viability of keeping the business operating and turning around its fortunes by working with the unions and cutting costs.
However, trading conditions had deteriorated to the point where the Port Talbot operation had been losing a reported £1 million a day. The current worldwide oversupply, combined with slack global and domestic demand, as well as higher manufacturing costs, do not look like changing in the short to medium term.
So, what now for the remnants of British Steel? Certainly, it is hard to imagine a trade buyer ready to take over with these ongoing concerns, even if steel prices have shown some signs of recovery, moving up £30 per tonne to £285 per tonne since the end of 2015. The only real hope is that the issue is picked up as a political pawn (over which 3,000 direct jobs are at stake), with the Welsh and UK governments working closely to support a plan to make the steelworks look like a viable business opportunity.
For more information, see A guide to buying assets from insolvent companies.