March 15th, 2018
by Chris St Cartmail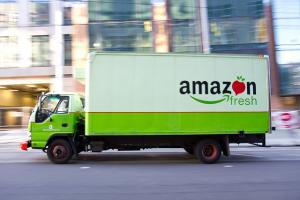 Going to the supermarket is turning out to be a 21st century activity, if the latest industry trends are to be believed, with the world's largest companies moving to pick up companies that offer online home-delivery services for groceries. In an age when anything, from cars to brussels sprouts, can be purchased via an online marketplace, why should the weekend shopping be any different?

Amazon's recent foray into the grocery delivery world – its $13.7 billion buyout of Whole Foods Markets in 2016 – has sparked a series of similar mergers and acquisitions (M&A) across the rest of the sector, according to a new report from Hampleton Partners.
Online platforms are moving to aggressively acquire smaller rivals, the report's authors write, in a race to capture market share both on home soil and abroad. The business of delivering restaurant or takeaway meals, as well as groceries, looks set to move online as a result.
The M&A advisor reports in its new "E-Commerce M&A Market Report" that Amazon's deal for Whole Foods has driven a chain reaction of similar acquisitions. It namechecks Walmart's recent purchases of Shoebuy, Moosejaw, Bonobos, Parcel, Hayneedle, ModCloth and Spaitland as evidence of this trend, and the likely consolidation of the online marketplace markets.
In the past 30 months, says Hampleton, the most active buyer of companies in the sector was a Minnesota-based food retailer, Bite Squad, which absorbed 17 other food deliver companies including Café Courier Ohio and 256ToGo.
Closer to home, Just Eat comes in as the third-most active buyer (in joint place with Chicago-based firm GrubHub, which also has an app popular among UK users) after it successfully bought rival firm HungryHouse for £200 million to back up its range of overseas businesses.
Further indications of the sectors' health are also shown by the popularity of "cook at home" services such as Blue Apron and HelloFresh, where subscribers receive a ingredients and instruction to cook at a meal at their leisure.
Hampleton Partners' digital marketing and e-commerce sector principal, Ralph Huebner, writes in the report that it is Amazon's "counter-cyclical" approach to M&A that has forced the rest of the sector into action. This approach sees the e-commerce giant focus on M&A despite the sector being in rude health overall, with the aim to secure good businesses despite their relatively high price.
Huebner adds that this "Amazonification" of the sector will continue into other sectors, where the online giant can successfully disrupt whole segments such as financial services with just a little activity.
He continues: "The continuing high growth rate of online retailing and consequent declining footfall is increasing pressure on traditional retailers and their suppliers. As bricks-and-mortar businesses also continue to struggle with rising rents and hefty business rates they need to turn to M&A quickly to not just remain competitive, but to stay alive.
"Recent high street and big box failures such as Maplin's and Toys R Us demonstrate clearly that standing still is not an option."