Pret A Manger weighing up sale to Filipino food group
Tue, 19 Sep 2017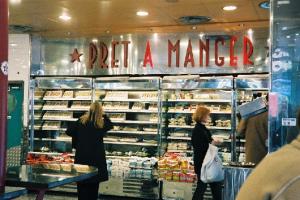 British sandwich chain Pret A Manger is mulling over a sale to a Filipino food group, with the group being valued at more than $1 billion (£740 million).
The proposed deal would be one of the biggest ever executed by a company from the Philippines.
Jollibee Food Corp, which runs 2,700 fast food outlets throughout the Philippines and is often referred to as the country's equivalent of McDonald's, is said to be considering an acquisition of the British firm to expand its global influence.
According to reports, Jollibee has been holding private talks with an advisor over a deal for Pret, though both companies have declined to comment.
The Filipino chain is known for its locally-influenced menu of fast food classics, including fried chicken and "sweet-style" spaghetti.
In 2015 Jollibee acquired a 40 per cent stake in American burger chain Smashburger in a deal reported to be worth $100 million. The company has been expanding throughout Southeast Asia, too, and has a market value of over $5 billion at the time of writing.
Pret has built a reputation for selling organic coffee and sandwiches to office workers around 400 locations in the UK, as well as recent forays into cities abroad including Hong Kong and New York.
Last year Pret made £776 million in revenues - a yearly increase of 15 per cent - and opened 50 new retail locations.
It was reported in May that the food chain's private equity owner, Bridgepoint, is considering offering stock to the public via the New York Stock Exchange.
Find a business to buy
here
Subscribe to Business Sale Report
here
Subscribe today to read and search all our news, premium articles, business sale listings and buy/sell resources.
---
Latest Businesses for Sale
---
Asking Price:
Turnover: £640,000
Location:
Digital printing specialists, commercial and retail stationers, lithographic printing and various ancilliary services. Freehold retail shop and long leased factory unit. Sale price includes all equipment and properties. NP £80k...
---
Asking Price: £1,900,000
Turnover:
Location: UK Wide
This leading highly profitable, UK based manufacturer of exploration, drilling and sampling equipment, supplies to the world minerals/earth sampling markets, the highest quality of earth drilling, boring, core sampling and in-situ ground testing equipment. The company has an enviable reputation for ..
---
Asking Price:
Turnover: £500,000
Location: South East
Three Victorian houses joined together to form a luxury 8,500 sq. ft. facility. Includes reception, two lounges, four dining rooms, 16 en-suite bedrooms, music room, two kitchens, conservatory, bar, sauna, hot tub and more...
---
View More Businesses for Sale >>
Do you want to gain access to the latest businesses for sale as well as all UK administrations, liquidations and all winding-up petitions?
Business Sale Report is your complete solution to finding great aquisition opportunities.
10 Biggest Buyer Mistakes
Fill in your details below to get our FREE guide