Private equity firm backs Xtrac MBO
Mon, 25 Sep 2017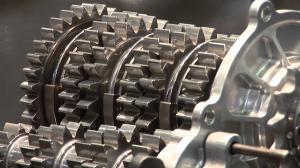 A designer and manufacturer of high-performance transmissions for the automotive and motor sport industry has been acquired in a management buyout.
The MBO of Xtrac, who supplies most of the world's top motor sports teams, is being supported by private equity firm Inflexion. It's hoped the investment will support future expansion as well as increasing Xtrac's current team of 330 in the UK and US.
Xtrac's factory will also be extended and additional machinery bought; accelerating the firm's development of innovative, high-end transmission systems while also advancing their hybrid and electric capabilities.
Adrian Moore managing director of Xtrac, said: "We are proud of the leading global business Xtrac is today; persistent innovation and exceptional customer service remain our highest priorities.
"Inflexion shares our values; its investment will accelerate our ambitious growth strategy, developing the next generation of high-end automotive transmission systems and expanding our coverage of the high-performance hybrid and electric car transmission market."
Simon Turner, managing partner at Inflexion, added: "We are backing a highly experienced management team with serious ambition. Xtrac is a truly exciting business, leading its market with superior design capabilities and a blue-chip global client base.
"We bring experience from across the specialist engineering sector with businesses such as Shimtech and Aspen Pumps, and an extensive track record in growing teams to promote sustainable growth."
Philip Barker, partner and head of industrials, commented on the Xtrac sale to Inflexion: "We are delighted to have advised Xtrac on its sale to Inflexion, allowing Xtrac to remain independent under its existing management team. We are confident we have found the right buyer to help Xtrac expand its engineering and production facilities and continue its growth trajectory, particularly transmissions for the high-end hyper car sector as well as hybrid and electric vehicle transmission technology. At Cavendish, we are continuing to see strong, and growing interest in the UK automotive industry from both national and international purchasers in the build-up to Brexit".
Find a
business for sale
.
Subscribe to the
Business Sale Report
.
Subscribe today to read and search all our news, premium articles, business sale listings and buy/sell resources.
Do you want to gain access to the latest businesses for sale as well as all UK administrations, liquidations and all winding-up petitions?
Business Sale Report is your complete solution to finding great aquisition opportunities.
10 Biggest Buyer Mistakes
Fill in your details below to get our FREE guide