Bovey Castle hotel for sale
Tue, 22 May 2012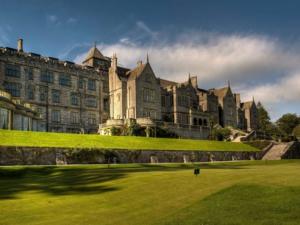 The owners of luxury country house hotel Bovey Castle, situated in Dartmoor National Park in Devon, have hoisted up a for sale sign with a price tag of £17.5 million.
Property investment firm Delancey bought the hotel in 2006 from Peter De Savary for £26.4 million, with its joint venture partner at the time Hilwood Hotels & Resorts.
Delancey and Hilwood had created a portfolio of hotels together also including the Grand Hotel & Spa in Jersey, Bailbrook House near Bath and the newly built Brooklands hotel in Weybridge, Surrey, which opened in 2010.
West Register (Hotels No 2) bought the Grand Hotel & Spa last year, and Bailbrook house is now being marketed for a sale for £6.95 million.
Hilwood Hotels & Resorts does not exist any longer as a brand for the hotels, a spokesperson for Delancey said. The hotels owned by property clients of Delancey's now are being run as separate businesses.
The heir to the WH Smith retailer chain built Bovey castle. With its 64 bedrooms, the neo-Elizabethan style hotel also features 14 three-bedroom lodges, an 18-hole golf course and two gatehouses in a 275-acre estate. Its website invites interest in its wide variety of services which include weddings, its spa, team building events and conferences.
Delancey has no intentions to sell the 120-bedroom Brooklands hotel.
Subscribers can contact the property agents for Bovey Castle
here.
Subscribe today to read and search all our news, premium articles, business sale listings and buy/sell resources.
Look around the Business Sale Report
10 Biggest Buyer Mistakes
Fill in your details below to get our FREE guide
Next Steps...
Subscribe and get contact details straight away.
We send you login details to access information for all the businesses listed for sale.
Give us your acquisition criteria and our researchers will begin searching for specific opportunities that match your requirements.
View new opportunities you won't find anywhere else and use daily notifications to stay ahead of the competition.
If you have any questions, get in touch with us to find out how we can help.
Call us on +44 (0)20 8875 0200
Or email [email protected]