Church buildings for sale in Scotland
Wed, 09 Oct 2013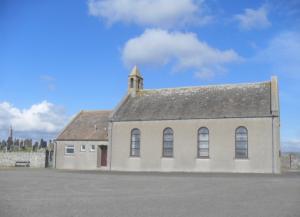 Property buyers and developers seeking something unique may be pleased to hear that several churches, halls, manses and plots have been placed on the market in Scotland.

Buyers can view properties ranging from island churches priced at £20,000, to a city centre property in Edinburgh priced at £500,000. Many of the historic buildings for sale boast stunning original features including stained glass windows and oak panelling.

The Church of Scotland currently has 44 properties for sale on its website, with another 35 under offer.

St Stephen's Church in Edinburgh was given a £500,000 price tag and is under offer on the website. Offers for the A-listed Plockton Church designed by Thomas Telford, are being invited at £90,000 and above. St Michael's Church in Orkney is B-listed, dates back to 1836, and is selling for £85,000.

The Church of Scotland or 'the Kirk', is disposing of surplus properties at which dwindling church attendees have led to congregations being merged, while also addressing the changing needs of local communities.

The latest census figures showed that the number of people with no religion is now greater than those in the largest denomination – the church of Scotland.

The properties for sale all represent redevelopment opportunities, subject to planning permission.

John Palen, director of The Scottish Civic Trust, told the Herald Scotland: "It is a fact of modern life that an increasing number of church buildings are no longer viable as places of worship given the decline in congregations.

"Church buildings, although challenging to convert, are often valuable in ways that make them attractive to developers and communities with vision."

Image: St Michael's Church in Harray, Orkney, for sale for £85,000.
Subscribe today to read and search all our news, premium articles, business sale listings and buy/sell resources.
Do you want to gain access to the latest businesses for sale as well as all UK administrations, liquidations and all winding-up petitions?
Business Sale Report is your complete solution to finding great aquisition opportunities.
10 Biggest Buyer Mistakes
Fill in your details below to get our FREE guide