Dairy firm Farmright Group in administration
Tue, 14 Feb 2012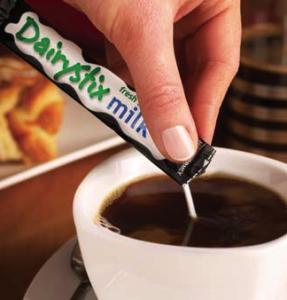 Farmright Group, the company behind the Dairystix milk pouches, has been placed
into administration
along with its subsidiaries Quadra Foods and Farmright Ltd.
Its other two subsidiaries, Dairystix, and Stickpack Europe Limited, had already
entered administration
.
The group has hired Nigel Morrison and Alistair Wardell of Grant Thornton as the joint administrators, and owes up to £4 million to Dairy Crest.
The administrators are assessing the situation at the Quadra Foods milk-processing unit to see if it can continue trading. It is possible that redundancies will be made amongst the 122-strong Quadra workforce.
The possibility of a sale for Quadra Foods and Farmright is also being looked into.
Quadra operates a 60,000 sq. ft. dairy processing unit in Plymouth. Its Dairystix café and airline liquid milk pouches are well known.
Based in Gloucestershire, Farmright Ltd has 11 staff, and buys milk from farmers across the UK, before selling it on to dairy processors.
Founded in 2008, Farmright Group had, only five months ago, announced plans to expand overseas into markets including South Africa, America and the Middle East, mainly on the strength of its Dairystix sales. It had predicted a need to take on an additional 40 staff by the end of this year.
The group failed to secure the funding required to invest in new technology and enter new markets, the administrators said.
Subscribe today to read and search all our news, premium articles, business sale listings and buy/sell resources.
Look around the Business Sale Report
10 Biggest Buyer Mistakes
Fill in your details below to get our FREE guide
Next Steps...
Subscribe and get contact details straight away.
We send you login details to access information for all the businesses listed for sale.
Give us your acquisition criteria and our researchers will begin searching for specific opportunities that match your requirements.
View new opportunities you won't find anywhere else and use daily notifications to stay ahead of the competition.
If you have any questions, get in touch with us to find out how we can help.
Call us on +44 (0)20 8875 0200
Or email [email protected]