Edinburgh church for sale as potential commercial property
Tue, 09 Jul 2013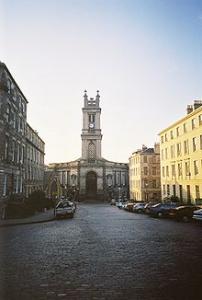 A church in Edinburgh is on the market, offering an unusual commercial property at a cut price.

St Stephen's Church in Stockbridge was built in 1828 and is now a Grade A listed building. It has become surplus to the needs of the Church of Scotland and has been put on the market for offers over £500,000.

Considering the location of the property, the price is thought to be very reasonable for a three-level construction in the area, especially given the unusual nature of the building itself. The building was designed by architect William Henry Playfair and has a usable floor area of 634 sq m on the first floor, 522.17 sq m on the ground floor and 302 sq m in the basement.

A spokesperson for the Church of Scotland told the Scotsman that the church is currently under offer, but the sale is subject to conditions and has not been finalised.

He added that the building has the potential for conversion to a number of different uses, including "an assembly hall/meeting room, auction house, dance school or theatre, nursery/play centre or other leisure or commercial purposes, subject to obtaining all necessary consents".

It is unlikely that St Stephen's will be converted into residential flats because of the extent of remodelling that would be required on the property's interior.

The building has featured in a number of television and film productions, including New Town, Rebus and Mary Riley.
Subscribe today to read and search all our news, premium articles, business sale listings and buy/sell resources.
Look around the Business Sale Report
10 Biggest Buyer Mistakes
Fill in your details below to get our FREE guide
Next Steps...
Subscribe and get contact details straight away.
We send you login details to access information for all the businesses listed for sale.
Give us your acquisition criteria and our researchers will begin searching for specific opportunities that match your requirements.
View new opportunities you won't find anywhere else and use daily notifications to stay ahead of the competition.
If you have any questions, get in touch with us to find out how we can help.
Call us on +44 (0)20 8875 0200
Or email [email protected]