Freehold hotel for sale in Cornwall
Tue, 07 Feb 2012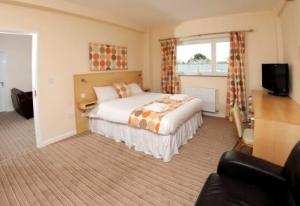 Administrators have been called into manage the sale process for a freehold hotel in Cornwall, with offers being invited by 1st March.
The modern 30-bedroom hotel was opened in June 2011 and sits on the bank of a canal. It has a bar, restaurant and function room, a conference/meeting room and a further incomplete function room.
A block of 23 furnished apartments and houses located close by - currently used as holiday lets - are available to purchase separately.
Mr Simon Wilson, Mr Fraser Gray and Ms Anne O'Keefe from Zolfo Cooper are the appointed joint administrators to Property Edge Lettings Limited, the firm behind the Strand Hotel in Bude, Cornwall. The administrators have hired Edward Symmons to market the hotel for sale.
The five-storey mid-terraced property was refurbished before being reopened for business in June 2011. It is located close to two beaches, and has sea views on the top floors.
The hotel hosts weddings, parties, and unusually for a hotel places itself firmly in the local community and is, according to the website, planning plenty of workshops and events to cater for various cultural interests, including music, cookery and theatre.
Click here to
contact the selling agents
and make a viewing appointment.
Subscribe today to read and search all our news, premium articles, business sale listings and buy/sell resources.
Any Questions?
Please get in touch with us so we can help.
Call us on +44 (0)20 8875 0200
Look around the Business Sale Report
10 Biggest Buyer Mistakes
Fill in your details below to get our FREE guide
Next Steps...
Subscribe and get contact details straight away.
We send you login details to access information for all the businesses listed for sale.
Give us your acquisition criteria and our researchers will begin searching for specific opportunities that match your requirements.
View new opportunities you won't find anywhere else and use daily notifications to stay ahead of the competition.
If you have any questions, get in touch with us to find out how we can help.
Call us on +44 (0)20 8875 0200
Or email [email protected]