Glasgow's Radisson Blu Hotel falls into administration
Mon, 21 Nov 2011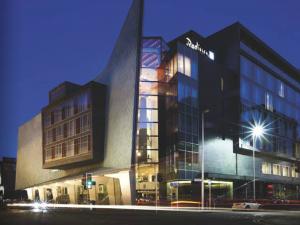 The high-profile Radisson Blu hotel in Glasgow has been put up for sale by administrators, just one day after it hosted the Scottish Bafta awards.

The luxury hotel was placed into the hands of administrators from RSM Tenon last week, after its parent company, S1 Argyle Street Limited, succumbed to financial pressures and was declared insolvent.

The hotel will remain trading as normal while a deal with a prospective buyer is sought. RSM's Tom MacLennan said that a potential bidder has already been identified and they are looking at working out a deal with the company.

"The preferred bidder is, at this stage, undisclosed but it is proposed all staff positions will be secure and will transfer across to the new business," MacLennan explained. "We wish to reassure all staff and customers our intention is to continue business as usual and focus our efforts on completing a rapid sale of the hotel."

Just last weekend the hotel hosted a slew of high-profile stars, including Robbie Coltrane, Peter Mullan and Peter Capaldi, when they attended the glittering Bafta Scotland television and film awards. All forward bookings for the Christmas period are to be honoured and it is hoped that the sale will cause little to no disruption.
Subscribe today to read and search all our news, premium articles, business sale listings and buy/sell resources.
Look around the Business Sale Report
10 Biggest Buyer Mistakes
Fill in your details below to get our FREE guide
Next Steps...
Subscribe and get contact details straight away.
We send you login details to access information for all the businesses listed for sale.
Give us your acquisition criteria and our researchers will begin searching for specific opportunities that match your requirements.
View new opportunities you won't find anywhere else and use daily notifications to stay ahead of the competition.
If you have any questions, get in touch with us to find out how we can help.
Call us on +44 (0)20 8875 0200
Or email [email protected]