Oakley Court Hotel to be sold out of administration
Thu, 04 Jul 2013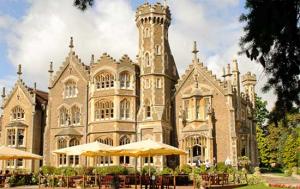 Oakley Court Hotel in Windsor has been put up for sale following its administration.
Joint administrators John Hansen and Stuart Irwin from KPMG were appointed to handle the matter initially, but they have now instructed Colliers International to find a buyer for the business and the property.
Oakley Court Hotel is one of the country's finest hotels and boasts 118 letting bedrooms, including 11 luxury suites. It also provides meeting and conference facilities and a nine-hole golf course within the 33-acre site.
The business has been successful with a net turnover for the year ending 31 December 2012 of £7.3 million.
Julian Troup, selling agent for the business and the head of UK Hotels Agency at Colliers, commented: "We are anticipating a considerable amount of interest from a variety of different buyers, both in the UK and from abroad. Given its impressive history, location and outstanding reputation there will undoubtedly be great deal of interest."
He added that there is still "considerable interest" for good quality assets in suitable locations, noting that Oakley Court is "one of the most impressive hotel assets that has come to the market in recent years and its quality will drive the level of demand".
The distinctive architecture of the gothic country house made it a favourite for film shoots over the years and the hotel has appeared in many of the Hammer Horror films, as well as The Rocky Horror Picture Show and The Belles of St Trinian's.
Contact the administrators
here
____________________________________________________________________________
Related articles:
A buyer's guide to hotels for sale in the UK
Skye hotels for sale
Grey Street Hotel bought out of administration
Subscribe today to read and search all our news, premium articles, business sale listings and buy/sell resources.
Do you want to gain access to the latest businesses for sale as well as all UK administrations, liquidations and all winding-up petitions?
Business Sale Report is your complete solution to finding great aquisition opportunities.
10 Biggest Buyer Mistakes
Fill in your details below to get our FREE guide