Scottish engineers BiFab prepare for administration
Mon, 13 Nov 2017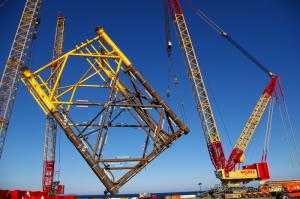 Leading Scottish engineering company, Burntisland Fabricators, is on the verge of calling in administrators, it has been revealed.
BiFab builds large scale equipment for the offshore oil and gas industry, as well as platforms for offshore wind turbines and tidal generators from their yards in Fife and Arnish.
Recent cash flow problems have taken their toll on the company, however, who employ around 600 people. They have recently filed papers to begin the process of entering administration.
Only a year ago, BiFab secured a £100m contract for the manufacture of 26 offshore wind turbine jackets from the Dutch contractor Seaway Heavy Lifting (SHL), part of the £2.6bn Beatrice Offshore Windfarm Ltd Bowl project in the Outer Moray Firth led by energy giant SSE. However fortune has not smiled on them in the time since.
The failure of the business would put the local community in peril, as well as damaging the Scottish economy as a whole.
GMB Scotland Secretary Gary Smith said: "It goes without saying that our members demand urgent answers from the employer about how it has ended up in this position less than a year after securing such a significant contract.
"We are in contact with the Scottish government and the possibility of losing over 600 highly skilled and decent paid jobs doesn't bear thinking about.
"Letting these workers and their communities go under is not an option."
It is hoped the Scottish government will take immediate action to keep BiFab afloat and save these jobs and skills.
Subscribe to the
Business Sale Report
Search
businesses in administration
Subscribe today to read and search all our news, premium articles, business sale listings and buy/sell resources.
---
Latest Manufacturing Businesses for Sale
---
Asking Price:
Turnover: £3,000,000
Location: UK Wide
One of the UK?s leading manufacturers of architectural products to the UK house building and construction industry. The company operates from a state-of-the-art facility in the UK and has significant growth potential. The company?s strengths lie in its competitiveness plus quality of product and ser..
---
Asking Price:
Turnover: £1,000,000
Location: South East
This business was founded in 1988 by the vendors and has grown since to become a significant enterprise with a countrywide reputation among its customers for the quality of its products and service, honesty and reliability. The business specialises in the manufacture of bespoke polystyrene packaging..
---
Asking Price:
Turnover: £12,000,000
Location: South West
A long-established and profitable manufacturing business with four sites, supplying technically advanced products to a wide selection of manufacturing businesses across Europe, several of which have global markets. A full mangement team remains...
---
View More Manufacturing Businesses for Sale >>
Do you want to gain access to the latest businesses for sale as well as all UK administrations, liquidations and all winding-up petitions?
Business Sale Report is your complete solution to finding great aquisition opportunities.
10 Biggest Buyer Mistakes
Fill in your details below to get our FREE guide