Struggling Cheshire hotel goes into administration
Fri, 27 Oct 2017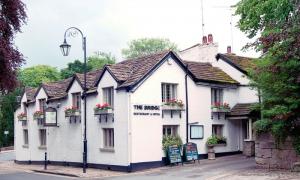 The Bridge hotel, a luxury venue in the affluent Cheshire village of Prestbury, has fallen into administration.
On their website, the hotel describes themselves as being situated "in the very heart of rural Cheshire" in a spot that has "miraculously resisted the breathless pace of the modern world and has retained the tranquil atmosphere of the perfect English village".
The upmarket hotel, which is a part-period building with 23 rooms featuring views of the garden and the river Bollin, is a popular destination for weddings and conferences, and also houses a contemporary French restaurant.
None of the 40 permanent and non-permanent staff have been made redundant and the hotel continues to be run by administrators while a potential buyer is found.
Aaron Kendall of Moorfield's Advisory said: "The Bridge Hotel has been running since 1952 in the heart of Cheshire, but unfortunately fell into financial difficulties earlier this year. The hotel has had a good trading history and would be a good purchase for someone wishing to build on the reputation of the existing hotel."
Search
businesses in administration
Subscribe to the
Business Sale Report
Subscribe today to read and search all our news, premium articles, business sale listings and buy/sell resources.
Do you want to gain access to the latest businesses for sale as well as all UK administrations, liquidations and all winding-up petitions?
Business Sale Report is your complete solution to finding great aquisition opportunities.
10 Biggest Buyer Mistakes
Fill in your details below to get our FREE guide