Mountain of unpaid SME invoices creating acquisition opportunities
With a huge number of businesses set to be impacted by this, from those with mounting piles of invoices they can't pay, to those unable to collect payment on invoices owed, there is a likelihood of many companies being forced into a distressed scenario.

It seems likely that, as the economic impact of COVID-19 continues to unfold over the coming months, the problems caused by unpaid invoices for some will present opportunities for others. The next few months could present a prime marketplace for acquisitive parties looking to take on distressed businesses.

The situation

According to figures from Creditsafe's late payment tracker, 61 per cent of all invoices paid in April 2020 were paid late, a 52 per cent increase from March 2020 and a 41 per cent leap from April 2019. This was especially felt in the transport, IT and real estate sectors, which saw significant increases.

Unpaid invoices remained an issue over the course of May. According to the Sidetrade invoice tracker, on June 13th 2020, 53.5 per cent of invoices by volume in the UK were unpaid, a 238 per cent increase on the average before the pandemic.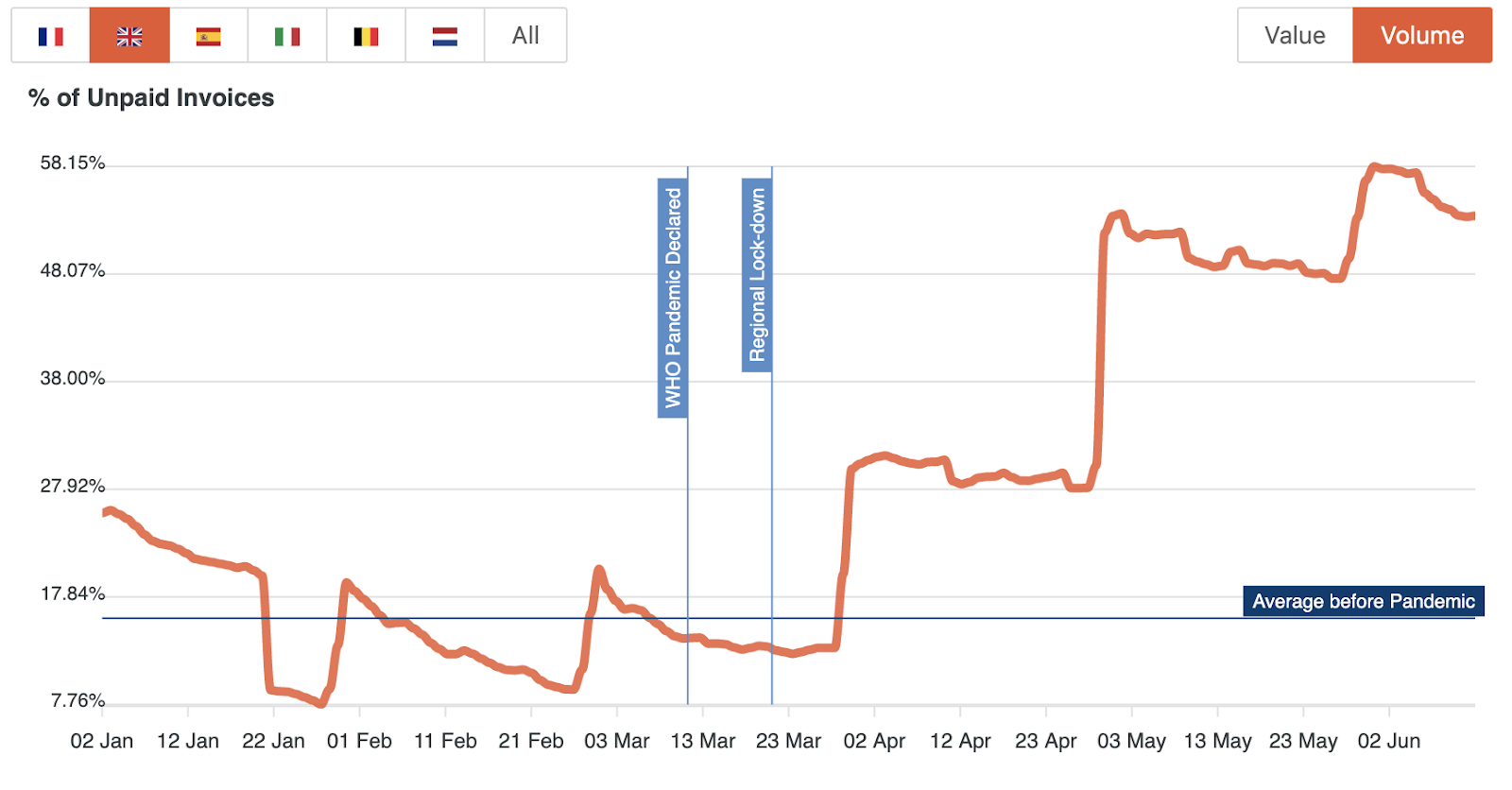 Sidetrade Unpaid Invoice Tracker showing unpaid invoices in the UK by volume
The impact
If business owners seek to protect themselves from unpaid invoices by reducing or not offering trade credit and demanding payment up front, then this could have dire consequences for the many businesses that rely on it. Indeed, according to the Iwoca "Levelling the 'Paying' Field" report, around one in four small businesses, who would likely be the most vulnerable in this regard, fear that they won't survive into 2021.
Iwoca reports that the number owing large payments to suppliers has nearly doubled and that small business owners have reported that the amount they owe to suppliers has risen during the pandemic, with 6.3 per cent say they owe between £20,000-£50,000 to suppliers (up from 3.7 per cent in 2018).
Realistically, with debt levels like this, if companies are unable to negotiate longer payment terms (which seems unlikely) then many small businesses across the UK could quickly become insolvent. While the government has established numerous different initiatives to protect businesses during the pandemic, these are not long-term solutions and will not be enough to save some from collapse.
Which sectors are most affected?
Acquisitive parties will be keen to see which industries are being most heavily impacted by the crunch on trade credit and, therefore, where the best sectors might be to find distressed companies. Companies in these sectors which are acquired during the crisis and subsequently receive the necessary cash injections to survive, could experience favourable conditions on the other side.
According to the Creditsafe report, the UK's late invoice payments in April (61 per cent of all invoices that month), were particularly pronounced in the construction sector (in which 71 per cent of invoices were paid late), the utilities with water and waste sector (70 per cent), the energy supply sector (67 per cent) and the transportation sector (66 per cent). Furthermore, Creditsafe point out similar increases in the IT and real estate sectors, which could deepen as COVID-19 continues.
Construction:
While these figures encompass a broad spectrum of industries, the construction sector is a particularly interesting example. Already, there have been numerous administrations in the UK construction space since the start of lockdown, as sites across the country were forcibly shut down.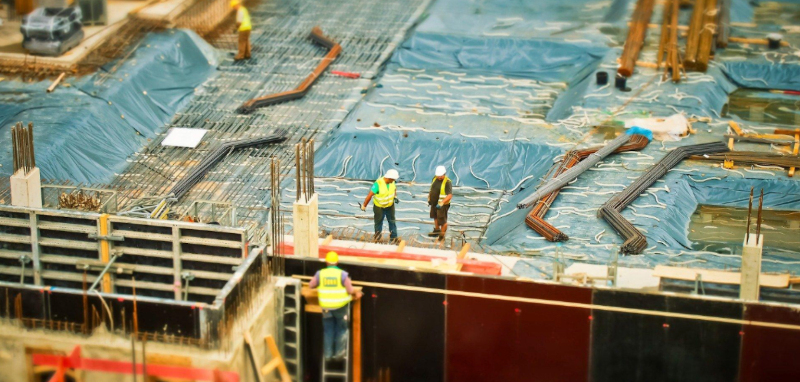 In early April, as businesses began to face up to the severity of the crisis, the Construction Leadership Council made a series of requests to the government in order to support the industry after announcing that nearly half of all construction companies would struggle if the market were depressed for three months. Among the measures was a call for public sector clients to speed up payment terms in order to keep a steady cashflow throughout the supply chain.
Despite progress on this front, such as Network Rail announcing immediate payment terms for suppliers, the sector's unpaid invoice rate for April and the spate of administrations it has seen (including Scottish construction firms
Neil McGougan Limited
and
Central Building Contractors
) show that it has been particularly hard hit by the pandemic.
Indeed, according to Construction News, 35 UK construction firms entered administration in May, compared to nine in April, with DRS Bond Management MD Chris Davies saying that the increase was "in line with expectations as money starts to run dry through supply chains".
In order to help its supply chain of self-employed members and to ensure that it could emerge from the COVID-19 crisis in a healthy position and ready to resume work, housebuilder Taylor Wimpey announced its £5m Pay It Forward scheme in April. This scheme would see advance, interest-free payments made to members and came with a promise to continue to pay for work done and to quickly process invoices.
Taylor Wimpey said that, despite its projects being shut, it would seek to support its members through prompt payment and targeted help. The firm said that it would pay its smallest, most liquidity-challenged subcontractors earliest. Chief Executive Pete Redfern said that the business' resilience meant it was capable of fully supporting its supply chain.
Redfern said: "Supporting those we rely on is not only the right thing to do but will help ensure we emerge from the COVID-19 pandemic in the best possible place with our community of trades people ready to help us resume the building of much needed high-quality homes for our customers, when we are all in a position to do so."
SMEs
A report from Iwoca entitled, "Levelling the 'Paying' Field", has revealed that over 40 per cent of suppliers are owed in excess of £10,000 in invoices. This has seen many seek to shorten payment terms and decrease their exposure, while buyers who have seen turnover plummet are angling for longer payment terms.
As Iwoca CEO and co-founder Christoph Rieche says: "What's emerging is a concerning game of 'tug of war' between small businesses as they look to survive and plan for the future. Buyers can't pay their invoices because they don't have the revenues, and sellers are being asked to provide longer payment terms to ease the strain whilst already sitting on a growing backlog of unpaid invoices."
The businesses most exposed to a crunch on invoice payments are B2B SMEs. According to Iwoca, COVID-19 has merely served to exacerbate a pre-existing problem in which companies in the sector were "battling low productivity and late payments".
During the pandemic, this has combined with a scenario in which business has all but ceased for many, with 37.5 per cent of businesses surveyed saying they hadn't made a sale in the last 30 days. According to the Iwoca survey, 66.9 per cent of small business owners say that cash flow is the first of their top 3 issues, with an inability to access government COVID-19 support the second most common issue on 25.1 per cent and, crucially, having an unpaid invoice owed to them as the third most common on 23.1 per cent.
This brings us to a gloomy scenario in which 1 in 4 SMEs are concerned that they will be insolvent by 2021. As the report concludes: "Although the government has put in place schemes to help businesses through this time, it's clear that B2B businesses are carrying customers through this period of uncertainty. This reality is likely to harm their efforts to keep their own doors open."
How can acquisitive parties identify companies in trouble?
So, if you're viewing COVID-19 as a chance to acquire a company below market value and then reap the rewards once you've waited out the crisis, how can you identify potential acquisitions?
BSR works with several databases that collect data based on companies' credit histories. Through this, you can estimate the chances of a company defaulting on their obligations based on their credit history. If you might be interested in this service, get in touch with us at
[email protected]
With the economic crisis caused by COVID-19 still developing, it is a decent bet that companies at high risk of defaulting eventually will go insolvent, so this can provide an early snapshot of distressed companies that may be open to an acquisition.
You might also consider taking a look at
BSR's list of winding-up petitions
issued to UK companies. While winding-up petitions are a relatively common occurrence, and aren't in themselves a sure sign that a company is in trouble, if a company has had several petitions against them in a short period of time, then this indicates that they are in a tricky situation.
Even if a winding-up petition has merely been issued against a company by an impatient creditor who wants to push the business into resolving their debts, they can still act as an early sign that a company is in some trouble.
For companies that are really in distress, you can
monitor administrations on the BSR website
. This will show you companies in dire straits that are actively seeking a buyer to help them turn things around.
Finally, there is a daily
Finance Alert service
that goes another level deeper in the detection of companies experiencing financial difficulties. This combines proprietary information with 3rd party trading information from credit agencies to give a very useful picture of companies that are sailing close to the wind.
Conclusion
Acquisitive parties looking to take advantage of an uptick in distressed companies would be well advised to keep an eye on SMEs in general and on businesses in predominantly B2B sectors. This means, not just construction companies, but sectors such as: utilities; transport; energy; IT; real estate. Over coming months, there should be plenty of firms in sectors like this in need of rescue.
As we've discussed in
previous coronavirus-related insights
, many businesses that receive the funding to make it through the initial phase of this pandemic could emerge in a much stronger position and in a much more favourable market afterwards. In this regard, a build-up of invoices can be viewed as creating yet more potential opportunities for people looking to buy a business.
Businesses that owe money and those that are owed money are both likely to feel the effects of the invoice crunch and become prime acquisition targets. For those unable to pay their creditors and at risk of insolvency, a bidder willing to provide the capital to settle their debts would be most welcome. While, for businesses at risk due to unpaid invoices impacting their cash flow, a buyer who could bankroll them through the crisis would be an enticing proposition.
Furthermore,
as outlined in this recent insight
, unlocking the capital stuck in unpaid invoices (through invoice factoring or discounting) can be the perfect way to fund the turnaround, and future success, of a distressed business.
Share this article