Jones Bootmaker 'on brink' of administration
Fri, 17 Mar 2017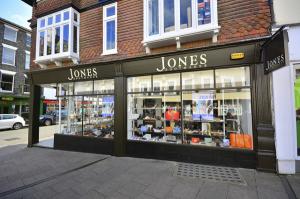 It is hoped a buyer can be found for historic footwear and accessories retailer Jones Bootmaker, which is on the cusp of falling into administration.
Alteri Investors, the firm's private equity owner, is reported to have filed a notice to appoint administrators to the company, placing 1,145 jobs at risk.
Jones Bootmaker was established in 1857 when Alfred and Emma Jones opened their footwear shop in Bayswater, London. Today the firm, headquartered in Leicestershire, has more than 120 stores across the UK.
The firm is thought to be struggling financially as its tries to cope with incoming business rate rises and price hikes brought about by the collapse of the value of the pound following the Brexit vote.
The move to appoint administrators is designed to give Jones Bootmaker breathing space from creditors looking to recover debts from the company while a new owner is found.
Sky News reported that while there is a risk of the retailer falling into administration, Alteri, together with advisors KPMG, are said to be in discussion with several buyers, with "credible" offers on the table.
Alteri acquired Jones Bootmaker, together with the Brantano brand, in 2015.
Find
retail businesses for sale
.
You can subscribe to the Business Sale Report
here
Subscribe today to read and search all our news, premium articles, business sale listings and buy/sell resources.
Look around the Business Sale Report
10 Biggest Buyer Mistakes
Fill in your details below to get our FREE guide
Next Steps...
Subscribe and get contact details straight away.
We send you login details to access information for all the businesses listed for sale.
Give us your acquisition criteria and our researchers will begin searching for specific opportunities that match your requirements.
View new opportunities you won't find anywhere else and use daily notifications to stay ahead of the competition.
If you have any questions, get in touch with us to find out how we can help.
Call us on +44 (0)20 8875 0200
Or email [email protected]